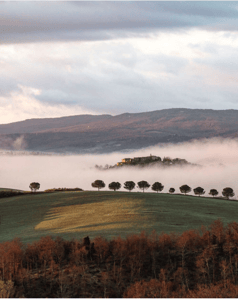 $

1,875.00
Join photographer Helene Dujardin, food stylist Tami Hardeman and cookbook author Giulia Scarpaleggia, for a workshop in Tuscany October 7th- 11th. The 3 day workshop will be hosted at the gorgeous agriturismo Tenuta di Mensanello and will be geared toward exploring the food and culture of Tuscany, food photography, food styling, prop styling, and lots of hands on practice.
Helene and Tami will share with the attendees their composition & styling processes, how to choose the best lens, set up, ingredients, composition for your capture. Each day will be filled with lots of practice, demos and guidance. We will also have the chance to explore the best of the area with dinner in Siena, visit of a cheese farm, and a trip to the local market. Giulia will also host the group at her studio kitchen for a fun cooking lesson using fresh local ingredients.
Together, they will guide you to create an edible narrative with your photos, and share current food styling and propping trends, etc... Nothing is off limits with questions, from how to pick ingredients, how to cook them, how to manage your cooking/photo time efficiently, knowing about photography for blogging or professional work, cooking for photography, photo as a hobby or how to get started in the business.
All this in gorgeous Tuscany….
The group will stay at the beautiful Tenuta Di Mensanello, located about 1 hour outside of Florence in charming apartments around the property. The apartments have a mix of single or double occupancy rooms which are available upon request on a first come, first serve basis. Perfect options whether you are a light sleeper or you want to come with a friend and share a room to catch up!
Schedule:
October 7th:
Arrival day
Welcome Meet & Greet and dinner at Tenuta Di Mensanello
October 8th:
Morning: Hands on food styling, composition and photography demo
Helene and Tami will discuss their approach to a photo shoot and how to create a specific mood and feel to tell a story. They will cover selecting ingredients, props, composition, as well as choosing the best lens and angle for a specific recipe/item. Understanding and manipulating light and shadows.
Individual practice to follow, with their guidance.
Afternoon: Hands on food styling and photography demo
Another demo led by Helene & Tami, getting more specific with defining and creating a style and a mood for either editorial, brand or blogging work. Basic art guidelines will be covered and put into practice.
Individual practice to follow, with their guidance.
Dinner in Siena
October 9th:
Morning: Shooting on location - food photojournalism
Visit of a cheese farm nearby - we'll get the chance to learn about the cheeses made in the are as well as see cheese made that day. We will cover the basis of shooting on location such as what camera gear to pack, how to handle light in unknown situations, etc…
Lunch will be held at the farm and prepared with local and fresh ingredients.
Afternoon:
Q&A with Helene, Tami and Giulia. Nothing is off limit! From writing, to styling, to photographing, all the how to's and not to's will be answered!
Pizza dinner at Jul's kitchen studio nearby. Giulia will host the group at her kitchen studio for an amazing homemade pizza dinner made in her own wood fired pizza oven, al fresco.
October 10th:
Morning:
Market visit in Poggibonsi, shopping for fresh and local ingredients followed by a cooking class at Juls' Kitchen.
Lunch at Giulia's studio where we will get to enjoy al fresco the fruits of our cooking class!
Afternoon: Critique and review: students will present a few of their favorite shots within the camaraderie of the group so that everyone can benefit from tips and techniques shared.
Farewell dinner at the agriturismo
October 11th:
Travel day.
Workshop includes:
3 days of hands on practice
4 nights Tenuta Di Mensanello (some single rooms available upon requests, first come first serve basis)
All meals, snacks and refreshments
Transportation to workshop activities (cheese farm, Juls' Kitchen, Market, etc…)
Airport shuttle pick up (specific time tbd) from Florence or Pisa airport.
Workshop is limited to 8 people.
Fee is $1875 (does not include airfare to Italy)
There will be no refunds for this workshop – please know you can attend before registering. Full payment due at time of registration, no deposit required.
Schedule subject to change (mainly due to possible weather changes!)